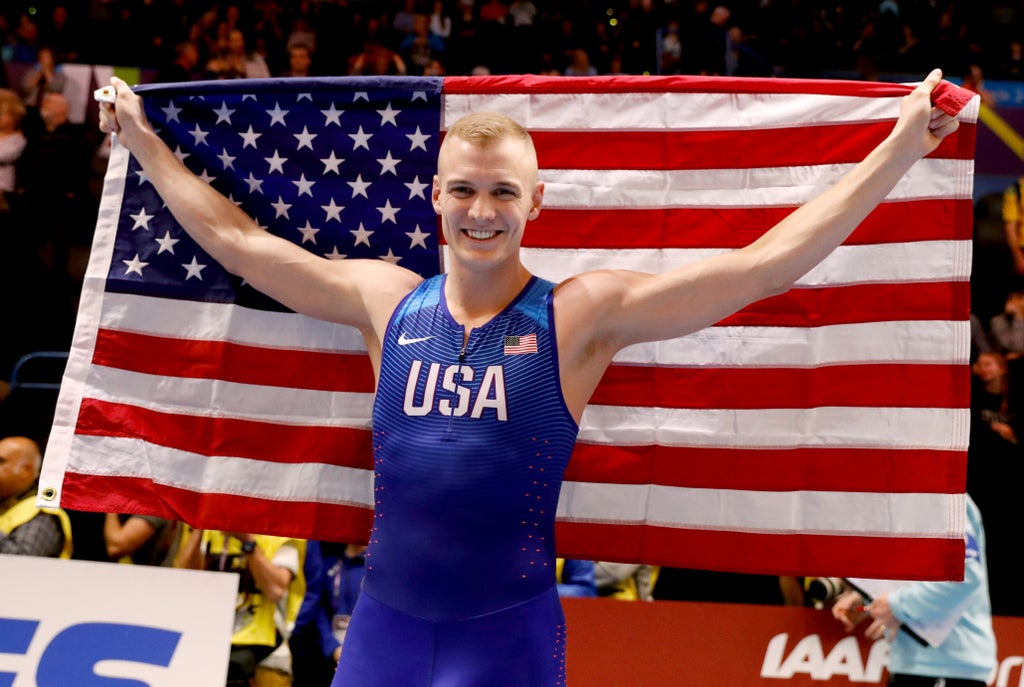 Simone Biles withdrawls from competition, citing mental health reasons
Day six of Tokyo 2020 is underway with Great Britain experiencing an upset in rowing by taking fourth place in women's pair rowing. New Zealand won its first gold medal for the Olympics during the race, which took place early Thursday morning.
Three athletes have tested positive for Covid in the past 24 hours, officials said, including two pole vaulters. It has forced the entire Australian athletics team into isolation and represents a real concern on the eve of the start of the athletics programme.
In beach volleyball, the United States defeated Kenya in women's beach volleyball after winning the first two sets of the match.
Golf returned to the Olympics for the second time since 1904 with the golfers teeing off in the early morning for the first round of the event. British golfer Justin Rose won gold in the men's competition during the 2016 Rio Olympics, but he will not be returning for the Tokyo Olympics.
All of this comes as the Olympics is still reeling over Simone Biles deciding to withdraw from Thursday's women's all-around gymnastic final, which will take place later in the day.
The 24-year-old pulled out after one rotation of the women's team final on Tuesday in Tokyo, citing mental health concerns. USA Gymnastics said Biles is yet to decide whether to withdraw from her four individual finals, which are scheduled to take place next week.
In a statement, USA Gymnastics said: "After further medical evaluation, Simone Biles has withdrawn from the final individual all-around competition. We wholeheartedly support Simone's decision and applaud her bravery in prioritising her well-being. Her courage shows, yet again, why she is a role model for so many."
1627540921
Tokyo Olympics: Golf to resume
The opening round of the men's golf tournament will resume at 4pm JST/8am BST after a thunderstorm halted play. Rory McIlroy was at -1 on a frustrating day so far. Britain's Paul Casey finished the day on -4, four back from clubhouse leader Sepp Straka of Austria. The other British entrant Tommy Fleetwood is at -2 through 14 holes.
Meanwhile Jon Rahm says he is mystified by a second bout of Covid which caused golf's world No1 to miss Tokyo Olympics. "For people who don't know, I needed three negative tests," he said. "Thursday, negative. Friday, negative. Saturday, positive. I did a second one to make sure it wasn't a false positive.
"I haven't had two experts tell me the same thing."
Lawrence Ostlere29 July 2021 07:42
1627540381
Emotional James Wilby sorry he couldn't win Olympic medal for his nurse mother
James Wilby broke down in tears as he paid a touching tribute to his NHS nurse mother Fiona, disappointed he could not reward the sacrifices she has made with a medal in what could prove to be his last race at the Olympics.
The 27-year-old qualified second fastest for the men's 200 metres breaststroke final in which he sat third at halfway before fading and finishing sixth.
A time of two minutes and 8.19 seconds was 1.81secs behind Australia's Zac Stubblety-Cook, who set a new Olympic record en route claiming gold, with Holland's Arno Kamminga second and Finland's Matti Mattsson collecting bronze.
Jack Rathborn29 July 2021 07:33
1627539406
Tokyo Olympics: After Kendricks, Chiaraviglio out of Olympics
Argentine pole vaulter German Chiaraviglio announced on Instagram on Thursday that he has tested positive for Covid and is out of Olympics, following world champion Sam Kendricks' own positive test.
"It is very hard to process something like that, it will surely take me a long time [to process]. We knew this Olympic game was different and with different rules, and here I am, it's my turn," he said.
Shweta Sharma29 July 2021 07:16
1627537035
Tokyo Olympics: Gold winners Dressel and Yang react to victory, GB's Wilby breaks down in tears
Caeleb Dressel said racing in individual events is far "tougher" and China's Zhang Yufei teared up with happiness in their post-race comments, while Team GB's James Wilby broke down in tears on day 6 of the Games today.
Dressel, who claimed his first individual Olympic gold medal with an Olympic record time of 47.02 seconds, said individual events were a different proposition to team races.
"I wasn't worried about anything," Dressel said. "During the race there's only so much you can do. Whatever's going to happen is going to happen. I stuck to my race plan so if it got me first, OK, if it got me second, OK."
China's Zhang Yufei welled up after she won gold in the 200m butterfly. She wrapped herself in a Chinese flag and waved towards the stand after setting another Olympic record.
However, day six was hard for GB's James Wilby who broke down in tears after he finished sixth in the men's 200 metres breaststroke final.
He wanted to give a tribute to his NHS nurse mother Fiona by winning a medal for her but couldn't stop himself from crying when asked about her.
"Oh God, now you're going to get me emotional," he said as he fought back tears. "My mum's been…damn you! There was always someone that was going to get it, it was either going to be one of my team-mates or one of you guys.
"My mum's been putting in such a shift for me over the last 27 years and that's probably the main disappointment which is I know I've made her proud, but I haven't quite won the medal I would liked to have won for her."
Shweta Sharma29 July 2021 06:37
1627536012
Olympic golf tournament suspended over fears of lightning strike
The first round of the men's Olympic golf tournament has been halted due to bad weather and an imminent lightning strike.
Ireland's Rory Mcilroy was lining up a putt on the 14th green when a hooter sounded, signalling the order to clear the Kasumigaseki Country Club course in Kawagoe, Japan.
He looked a little mystified and asked his Irish team members: "What do we do now?" They flagged down a cart and took a ride to find shelter.
McIlroy was at -1 on a frustrating day so far. Britain's Paul Casey finished the day on -4, four back from clubhouse leader Sepp Straka of Austria. The other British entrant Tommy Fleetwood is at -2 through 14 holes.
Shweta Sharma29 July 2021 06:20
1627533126
Tokyo Olympics: US pole vaulter Sam Kendricks tests Covid positive
American pole vaulter Sam Kendricks, who grabbed bronze in the Rio Olympics, has pulled out of Tokyo after he tested positive for coronavirus, the US Olympic and Paralympic Committee said.
All 63 members of the Australia's entire track and field team has been sent into isolation and would undergo tests as a precautionary measure.
"Members of Australia's track and field team at the Tokyo Olympic Games are isolating in their rooms as a precautionary measure following news of a Covid positive finding with a member of the US track and field team," an AOC statement read.
Tokyo officials said earlier today that three athletes tested positive for coronavirus, among 24 Games-related personnel. Nearly 200 Games-related Covid cases have been detected so far.
Shweta Sharma29 July 2021 05:32
1627531498
Tokyo Olympics: China set world record in women's free relay
China have clinched gold in a superb team display in the 4x200m freestyle relay final, setting a new world record of 7:40.33.
They beat the Australia team led out by individual champion Ariarne Titmus and also boasting Kaylee McKeown, which kept up with them throughout the race.
But it was the US who came through to take silver in the end, with a huge performance in the last leg by Katie Ledecky.
Australia have to settle for bronze.
China's Li touched the wall by breaking the previous world record of 7:41.50.
Shweta Sharma29 July 2021 05:04
1627530184
Tokyo Olympics: Shock elimination of South Korea by India in archery
India's Atanu Das has stunned the London Olympic gold medalist Oh Jinhyek in the men's individual recursive archery by eliminating him 6-5.
He goes through to the round of 16 at the Tokyo Olympics, rising India's medal hopes as the country has just secured one silver so far.
Shweta Sharma29 July 2021 04:43
1627529385
Texas official apologises for calling Simone Biles a 'national embarrassment'
Texas Deputy Attorney General Aaron Reitz has issued an apology after he came under fire for calling the world's best gymnast Simone Biles "selfish, childish national embarrassment."
'In a moment of frustration and disappointment, I opined on subjects for which I am not adequately versed,' Reitz said apologising.
The harsh criticism came over Biles' decision to withdraw from the Olympics team and all-around competitions to focus on her mental health.
"Contrast this with our selfish, childish national embarrassment, Simone Biles," Reitz said in a now-deleted tweet.
Shweta Sharma29 July 2021 04:29
1627528648
Three athletes test positive at Tokyo Olympics, 200 Games-linked Covid cases
Twenty-four people associated with the Games, including three athletes, tested positive for coronavirus, officials said on Thursday.
It takes the total tally of Games-related Covid cases so far to 198.
The three new cases of Covid have reportedly been detected within the Olympic Village, which was Covid-free until Wednesday.
The daily surge in Games-related infections comes even as most of the events are being held without spectators.
The cases are being reported in workers, officials and members of media.
Tokyo added more than 3,000 cases on Wednesday.
Shweta Sharma29 July 2021 04:17