The average price of diesel at Britain's pumps has risen above £1.80-a-litre for the first time on record and is set to keep climbing closer to £2.
On Sunday, the UK average price for a litre of diesel hit 180.29p, which surpasses the previous record of 179.90p set on 23 March - the day Rishi Sunak introduced the 5p fuel duty cut to ease skyrocketing forecourt prices.
Petrol is also on the rise, hitting 166.65p, which is less than a penny below the record for unleaded - 167.30p set on 22 March.
Confirming the new record for diesel this morning, both the AA and RAC have warned drivers to brace themselves for further rises over the coming weeks, with the cost of fuel set to add more strain on finances and pile more pressure on families struggling in the cost of living crisis.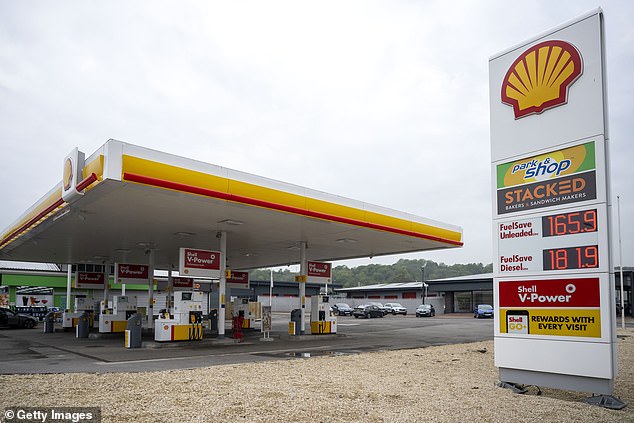 Average price of diesel surges above £1.80-a-litre for the first time:  Fuel experts warn that prices are set to rise in coming weeks and creep ever closer to £2-a-litre
Forecourts were charging an average of 128.38p for petrol and 130.80p for diesel a year ago - around 38p and 49.5p per litre less than today respectively.
That means filling a typical 55-litre petrol tank is now £91.17 compared to £70.61 a year ago - a rise of 29 per cent. 
For a diesel-powered family car, it is almost £100 (£99.16) to brim a 55-litre tank - up £27.22 compared to 12 months ago and a rise of 38 per cent. 
For someone using a Transit-type van, the cost of refuelling an 80-litre tank is almost £40 more expensive, rising from £104.64 in May 2021 to £144.23 over the weekend.
RAC fuel spokesperson Simon Williams said the price of diesel is now at an all-time record high as a result of efforts to move away from importing Russian diesel, which has led to a 'tightening of supply and pushed up the price retailers pay'. 
He explained: 'While the wholesale price has eased in the last few days this is likely to be temporary, especially if the EU agrees to ban imports of Russian oil.'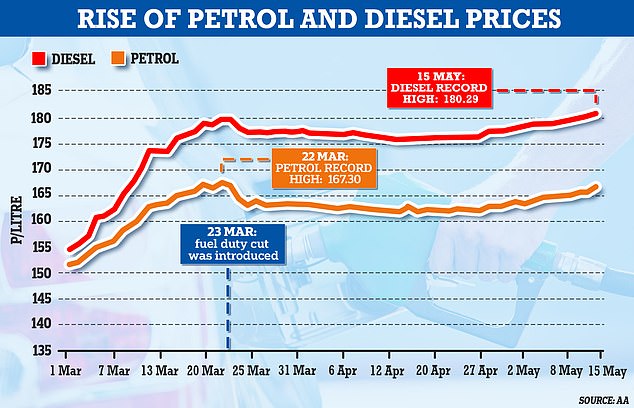 With diesel reaching a new high on 15 May, petrol also rose above £1.66-a-litre for the first time since 23 March and is within a penny of the UK unleaded record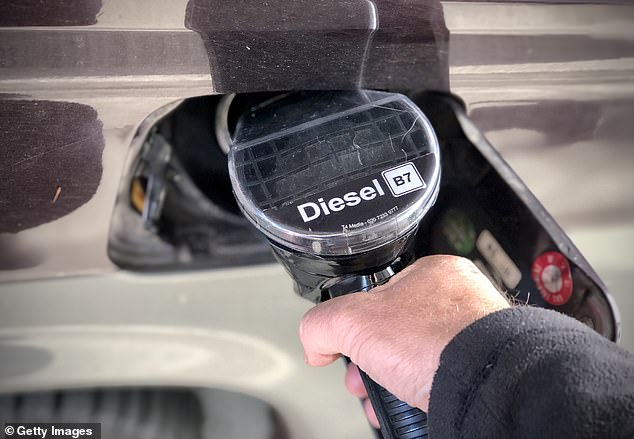 If you drive a diesel-powered family car, it will cost almost £100 to brim a 55-litre tank. That's over £27 more expensive than 12 months ago and experts warn more increases are on the way
And Mr Williams added that owners of diesel cars need to 'brace themselves for yet more pain at the pumps' and said the Chancellor should have done more to ease the financial burden on motorists in his Spring Statement at the end of March.
'Had Mr Sunak reduced VAT to 15 per cent as we call on him to do instead of cutting duty by 5p, drivers of diesel vehicles would be around 2p a litre better off, or £1 for every full tank. 
'As it is, drivers are still paying 27p VAT on petrol and 29p on diesel, which is just the same as before the Spring Statement.'
The RAC fuel expert said the average UK petrol price has already increased by almost 3p a litre since the start of May and is now only 0.65p shy of matching the record high of 167.30p.
Last week, the AA warned drivers to expect pump prices to accelerate, as rising summer demand in the US inflates the price of oil during the time of the year.
Greenpeace blocks tanker carrying Russian diesel at UK terminal 
Greenpeace protesters last night occupied a jetty where a tanker carrying a 33,000-tonne shipment of Russian diesel was due to berth, forcing it to turn around in the Thames.
The campaign group said 12 activists gained access to Navigator Terminals in Grays in Essex and climbed onto the jetty late on Sunday evening.
The environmental group is protesting against the UK Government allowing fossil fuel money to flow to Russian President Vladimir Putin.
Essex Police said officers were called to reports of people gaining access to the terminal shortly after 11pm.
The force said eight people have been arrested on suspicion of aggravated trespass, and officers are working to bring 'a number of others' to safety.
Greenpeace said several protesters remain in place, with one activist on the offloading pipes, another hanging off the jetty and others occupying the jetty preventing the tanker from docking.
They have unfurled a banner reading: 'Oil fuels war'.
Georgia Whitaker, oil and gas campaigner at Greenpeace UK, said: 'The UK's attachment to fossil fuels has backfired in the worst way possible – we're funding a war, our energy bills and fuel costs are sky-high, and we're driving the climate crisis. It has to stop.
'Putin invaded Ukraine nearly three months ago, and yet fossil fuel money from the UK is still funding his war chest.
'Ministers have kicked a ban on Russian oil imports to the end of the year despite strong public support for it.
'To stand up to Putin, bring bills down and tackle climate change, the Prime Minister must get us off fossil fuels as fast as possible, stop ludicrous energy waste from our substandard draughty homes, and prioritise cheap, clean, homegrown renewable power.'
Luke Bosdet, the motoring group's fuel price commentator, said: 'Petrol prices look to rise much higher in the coming weeks and people who rely on their cars for essential daily trips, such as driving to work, need to prepare their finances for further substantial increases.'
He added that the higher cost of oil during the summer is being inflated further by the pound falling against the US dollar. 
With fuel traded in dollars, this also impacted wholesale prices paid by fuel companies. 
The AA said on Monday that the higher cost of filling up in Britain has sparked one in seven holidaymakers to fly abroad or go on non-driving vacations - such as cruises and cycling trips - this summer.
In a survey of almost 14,000 members, over a fifth (21 per cent) said they will jet off to other countries this summer.
And of those choosing to fly to destinations for their holidays, 12 per cent of families, 10 per cent of couples and 15 per cent of singles said pump prices have influenced their decision.
Furthermore, 23 per cent of all the 13,935 survey respondents say they will stay at home this year, rising to 34 per cent in the lowest income group. 
People yet to make up their mind make up 15 per cent of the survey sample.
'More than a third of drivers (36 per cent) will mainly drive during their summer holidays. However, it was expected that the cost of living crisis would lead to more doing so and vacationing in the UK, instead of jetting off somewhere,' said Edmund King, the AA's president.
'Instead, the huge volatility of pump prices has pointed many people to holiday packages with controllable set prices. Flying abroad therefore becomes more attractive.
'That's not good news for a UK tourism industry already facing millions of pounds of potential visitor spending being siphoned off at the forecourts. 
'Added to that, visitor numbers could be thinned by those staying at home – although day trips may be the big thing this summer.'
What is fuel duty?
When the Chancellor announced a 5p-a-litre cut to fuel duty, it presented an opportune time to give you a refresher course on what it actually is.
Rishi Sunak confirmed in his Spring Statement that he has trimmed the levy on every litre of fuel from 57.95p-a-litre to 52.95p as part of efforts to ease the burden of record petrol and diesel prices on motorists.
It is only the second cut to fuel duty in 20 years (the first was in March 2011) and the lower rate of duty will be kept in place until March 2023. The RAC calculates that it will reduce the cost of filling a typical 55-litre family petrol car by around £3.
Here we explain how much fuel duty contributes towards the total cost of petrol and diesel, when it was first introduced, how expensive it is in comparison to taxation in other countries and what the future is for the levy when cars switch to electric power… 
> Read our fuel duty explainer here 
Some links in this article may be affiliate links. If you click on them we may earn a small commission. That helps us fund This Is Money, and keep it free to use. We do not write articles to promote products. We do not allow any commercial relationship to affect our editorial independence.