UK strikes happening first week of January
Members of the National Union of Rail, Maritime and Transport Workers (RMT) embarked on another 48-hour strike on Tuesday as the pay dispute ongoing for over six months spilled into the New Year. Although the exact raise the union is campaigning for has not been disclosed, earnings data show rail workers take home significantly more each year than nurses, many of whom have also recently gone on strike. While public support for NHS staff strikes remains robust, Christmas travel chaos appears to have turned the British public against the RMT. 
A walk-out by 40,000 RMT members led to the cancellation of four-out-of-five train services in the UK on Tuesday, just as many returned to work after the holidays.
This latest industrial action is set to continue throughout Wednesday, with another 48-hour strike planned for Friday and Saturday. Train drivers across 15 operators represented by Aslef will also go on strike on Thursday.
Amid record-high inflation and the cost-of-living crisis, Network Rail employees have joined nurses, ambulance crews, Border Force agent, postal workers, and others in striking for better pay and working conditions since the summer of 2022.
On December 12, the RMT announced that just under two-thirds of its membership had voted to reject Network Rail's latest pay offer. It is understood that as of early January a new offer had not been tabled. In a statement, the union said: "RMT remains available around the clock for talks so all parties can come to a negotiated settlement."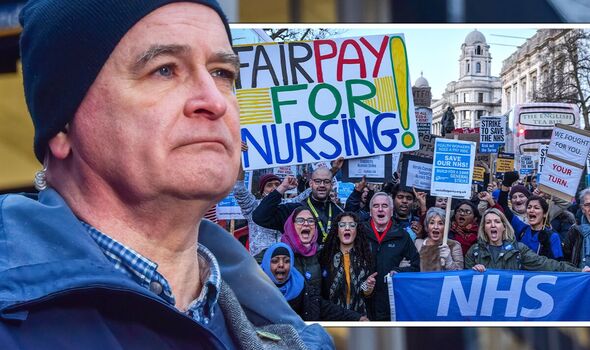 Rail workers earn 16 percent more a year than NHS staff on average (Image: GETTY)
Polling shows public backing of rail workers has fallen  since they first formed a picket line last year in June. Back then, an Express.co.uk poll conducted between June 21 and June 24 found 13 percent of readers supported them.
The latest Express.co.uk poll – taken between December 9 and 14 – showed only nine percent still backed them. Another poll carried out in late November found over eight-out-of-ten readers were in favour of plans to make rail strikes illegal.
As the country was brought to a standstill on multiple occasions in the run-up to Christmas, scrutiny of the current pay and raise demands of the rail union's members increased tenfold.
The RMT claims to be looking for a "negotiated settlement" but has not yet disclosed what figure they would accept.
READ MORE: Rail unions accused of 'self harm' as strike chaos set to continue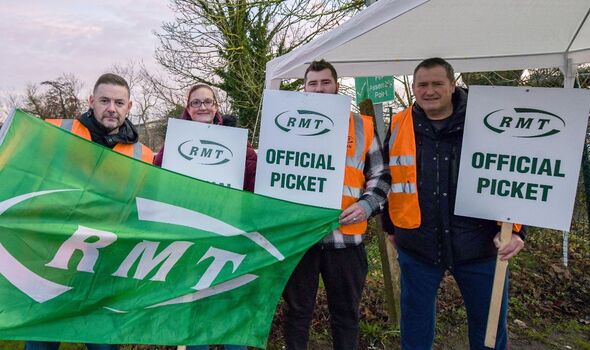 RMT members began another two-day strike on Tuesday (Image: GETTY)
The organisation represents over 80,000 members across the transport industry, with the stated aim of "using every opportunity to drive home our positive agenda for better pay, shorter hours and safer working conditions."
How much rail workers get paid depends on their role. Those highest paid are train drivers – not, in fact, represented by the RMT, but by Aslef. 
Although pay depends on the operator, the average UK train driver salary is £48,500 per year, according to employment agency Reed. Early career salaries may begin at £30,000, with the highest "often exceeding £65,000."
Rail transport operatives, including signallers and driver assistants, are paid an average of £48,750 per year, according to the Department for Transport (DfT).
DON'T MISS:
Up to 400 Russians killed in huge missile strike, claim officials [LATEST]
'Mistakes were made on Brexit' Protocol 'too strict' says Irish PM [REACTION]
The real victims of huge ambulance and NHS waiting times in 2022 [REPORT]
Households may be able to claim refund on their TV Licencebill [INSIGHT]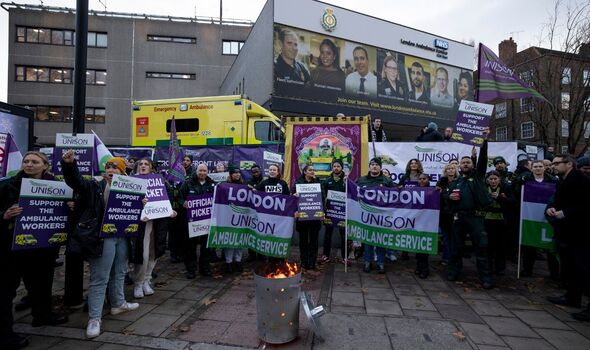 Ambulance staff across England went on strike on December 21 and will again on January 11 and 23 (Image: GETTY)
Rail construction and maintenance operatives take home £34,998 a year, while rail travel assistants, including ticket collectors, guards, and information staff earn £33,310 on average.
RMT General Secretary Mick Lynch claims the average railway cleaner – of which over 1000 are members of the union – makes around £32,000 annually.
Excluding train drivers, the latest data from the Office for National Statistics (ONS) shows the median full-time annual salary for railway workers overall to be £41,085. 
This is almost 25 percent more than the median salary of £33,000 in 2022 across the wider UK workforce.
In comparison, according to the health service's latest estimates, mean annual full-time pay across NHS England was £35,374 in the 12-month period to the end of June – roughly 16 percent less than for rail workers.
The Royal College of Nursing (RCN) estimates that the average salary in 2022 for nurses specifically was between £33,000 and £35,000. Meanwhile, paramedics earned £46,643 on average during the year to March, according to the Nuffield Trust.
In the same Express.co.uk December poll, nurses and ambulance workers were found to have the most support of all those undertaking strike action over Christmas, with 14 and 13 percent backing respectively.
The RCN, holding out against the Government for a 19 percent pay rise, has announced further strikes on January 18 and 19, after previously taking action on December 15 and 20. Some ambulance staff in England will also stage additional strikes on January 11 and 23, having done so on December 21.