Royal Mail braced for £650m loss as postal service is crippled by strike action and declining letter numbers
Royal Mail looks set for losses of nearly £650million after a horrid Christmas marred by strikes.
The 507-year-old firm, established by Henry VIII, has been rocked by declining letter numbers, the end of the pandemic boom in parcel deliveries and a bitter industrial dispute with the Communication Workers Union (CWU), which represents around 115,000 postal workers.
And it is now heading for mammoth losses – plunging the company deeper into crisis and raising fresh fears over its future after bosses last month warned staff they are 'fighting for the life of this business'.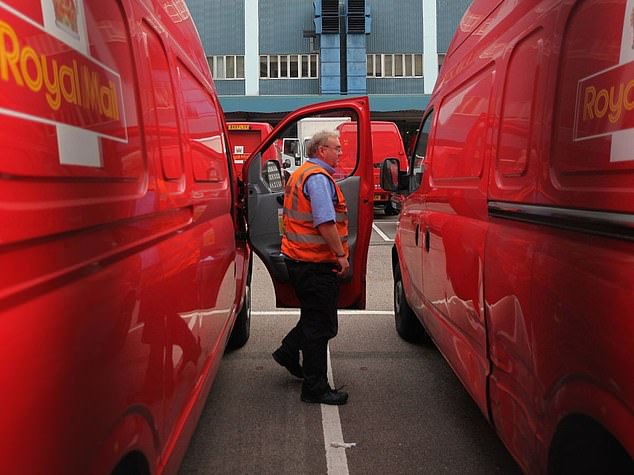 Strike action: Royal Mail has been rocked by declining letter numbers, the end of the pandemic boom in parcel deliveries and a bitter industrial dispute
Shares in parent company International Distributions Services (IDS) fell nearly 60 per cent last year, though they ticked up 1.9 per cent, or 4.1p, to 217.1p yesterday, well below the 2013 float price of 330p.
Susannah Streeter, senior analyst at Hargreaves Lansdown, said 2022 was an 'annus horribilis' for Royal Mail and it was entering the New Year in a 'precarious position'. 
She added that the company was trapped in a 'vicious circle' of falling volumes and an exodus of customers which were only serving to worsen its prospects.
Although new rounds of talks between management and the unions could 'substantially' boost the company's valuation if a deal was agreed, Streeter warned there were still 'substantial hurdles to overcome.'
Royal Mail racked up a loss of £219million in the six months to September 25 compared with a profit of £235million a year earlier, partly thanks to a £100million hit caused by strike action. 
But this figure is expected to drastically worsen when IDS reports results for the full financial year, which runs to late March.
City analysts predict Royal Mail will crash to a full-year loss of £645million, having made profits of £416million in the previous 12 months when it was still cashing in on demand for home deliveries during Covid-19 restrictions.
The mammoth loss would equate to nearly £1.8million per day as prolonged industrial action over the Christmas period took its toll and left piles of letters, cards and parcels undelivered.
Russ Mould, investment director at AJ Bell, said the longer the dispute with the unions went on, the more likely customers were to seek alternatives. 
The losses at Royal Mail stand in stark contrast to IDS's international delivery business GLS, which is predicted to rake in a profit of £317million for the year.
But that will not be enough to prevent the parent company from swinging to a loss of £290million in 2023 from a £662million profit last year, according to analysts.
The amount of red ink on Royal Mail's accounts is likely to cast fresh doubt over its future. In a letter to employees last month, chief executive Simon Thompson and senior managers told staff they are now 'fighting for the life of this business'.
The company warned neither the Government nor the regulator Ofcom would ride to its rescue. 
It has also warned it could split off its UK arm from the GLS business, although there are concerns this could make matters worse and result in the Royal Mail being renationalised.
Bosses have tried to implement changes to Royal Mail's business practices in a bid to make it more competitive with rivals. 
But a dispute over pay and conditions with the CWU has escalated into a drawn-out feud that saw postal workers walk out on strike for 19 days last year. Another strike ballot is planned for this month.
Royal Mail has said changes are needed so it can compete, but the CWU claim staff will be turned into 'gig economy' workers with less reliable hours and pay. 
Management were criticised over the weekend by former boss Rico Back, who said they had taken a 'confrontational' approach to the strikes.
He added Thompson's lack of experience, both in the sector and as a leader of a big firm, was a 'toxic mixture'.
Meanwhile, there is speculation about the end goal for Daniel Kretinsky, the Czech billionaire who controls 23.2 per cent of IDS through his vehicle Vesa Equity.
The tycoon, known as the 'Czech Sphinx' for his inscrutable approach to investing, recently upped his stake in the group, sparking rumours he could be gearing up for a swoop on the company.
Advertisement