The British video game industry may be considered a new sector among investors.
But for Frontier Developments chief Jonny Watts, making games has encompassed his entire professional life, and even the years before that.
The Wirral-born 53-year-old's promotion in August to the top job has been a long time coming.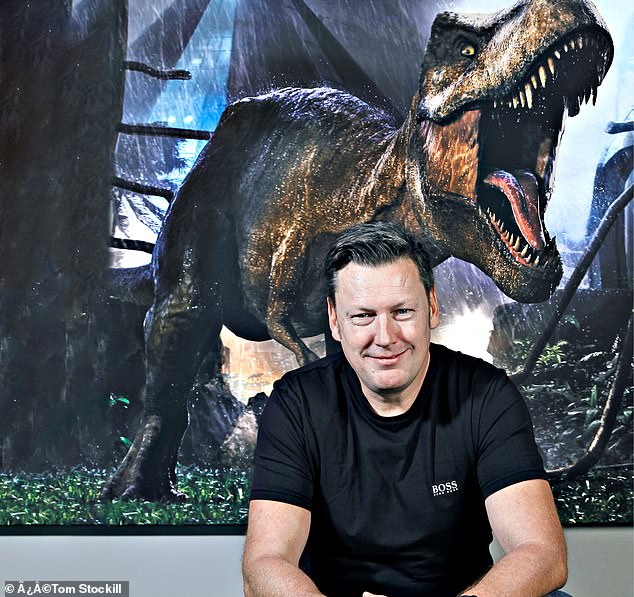 Game on: Frontier Developments chiefJonny Watts (pictured) is an evangelist for the UK's gaming sector, which employs around 24,000 and in 2021 hit £7.2bn in sales
He joined the company in 1998, four years after it was founded by British video game pioneer David Braben, and despite his mother claiming he would 'never make a living out of making video games'.
Much like his predecessor, Watts is an evangelist for the UK's gaming sector, which employs around 24,000 and in 2021 hit £7.2billion in sales – making it the second-largest market in Europe and the sixth biggest in the world.
This success has been replicated in Frontier's results. The firm posted record revenues of £114million for the year to the end of May 2022. 
It has been boosted by its library of notable titles including Jurassic World Evolution 2, which allows players to build a park full of dinosaurs like the one in the film franchise.
Frontier's work has won plaudits from those outside the industry, with its dinosaur models receiving praise from Industrial Light & Magic, the visual effects company founded by Star Wars creator George Lucas.
'The gaming industry is a marvellous thing and a real success story for the UK,' Watts says from his office in Frontier's glass-panelled HQ on the outskirts of Cambridge.
But despite recent successes, the sector, alongside other forms of entertainment, faces a challenge. The cost-of-living squeeze has seen many reassess whether to splash out on the latest game or streaming subscription.
But Watts is unfazed. Video games are 'really high-value entertainment', he says, which means demand is likely to hold up despite a looming recession.
'People aren't going out to the pub or the cinema because it's too expensive – but they will jump online to [play games and] socialise with their friends.'
There is also the looming threat of acquisition as in recent years British video game companies have been picked off by larger international rivals.
Last year tech giant Microsoft agreed a £50billion mega-merger with Activision Blizzard, the maker of first-person shooter franchise Call Of Duty and online fantasy role-playing game World Of Warcraft.
But Watts again is undeterred, highlighting Braben's 33 per cent stake in Frontier as a likely bulwark against any opportunistic bids.
The company is also backed by Chinese giant Tencent, which is its second-largest shareholder with an 8.6pc stake.
But Watts hasn't ruled out hitting the acquisition trail himself. Frontier recently snapped up Canadian developer Complex Games for £8.3million in cash after a collaboration between the two companies on gothic science fiction game Warhammer 40,000: Chaos Gate – Daemonhunters, which was released in May.
'We're very ambitious, we want to grow,' Watts says, although he remains tight-lipped when asked which other companies are on his radar. Becoming the head of a major video game company seemed to be the natural path for Watts.
Jonny Watts, 53 
Family: Wife Jill and daughters Jessica and Jasmine 
Home: Christchurch, Cambridgeshire 
Lockdown hobby: Collecting old Atari computers
Last meal: Steak (cooked rare) and chips 
TV show: Cobra Kai 
Favourite film: Blade Runner
Favourite video game (not made by Frontier): Kick Off: Extra Time (1989) 
Holiday bucket list: Sail down the Panama Canal 
He began making games in 1985 when he was still at school. After studying zoology (due to a self-confessed fascination with dinosaurs) and then computer science at university, he was hired by Sensible Software, an early video game maker based in Chelmsford.
He joined Frontier in 1998, rising through the ranks before being appointed to the board as chief creative officer in 2012, a position he would hold for a decade until his promotion.
Watts has also been present for most of Frontier's expansion, highlighting that when he joined, the company had eight employees – it now has around 800.
Unfortunately, Watts's mother never lived to see him become chief executive.
But he says his parents left him with a mantra of 'do well', which he tries to embody in his role and pass on to colleagues.
It is a prosperous time for the video game industry.
The sector experienced a boom in demand during the Covid-19 pandemic as those stuck inside during lockdown increasingly turned to games as a way to battle boredom.
The sector has also seen increasing diversity in its customer base. Watts says the stereotypical video game player – a young man sitting in a dark room in front of a computer – no longer holds water.
'I think gaming has become a lot more inclusive,' he says. 'I have two daughters, aged 22 and 24, who play video games.
'The early adopters were [men in their bedrooms].
'But that is changing quite rapidly. Gaming is 55 per cent male and 45 per cent female. 
I think that's absolutely brilliant. In a small number of decades, the whole world will be playing games. I have my mother-in-law telling me that she is at Level 750 in Candy Crush.'
Given his previous status as creative officer, it is no surprise when Watts describes how Frontier is looking at expanding into 'adjacent' genres from its core focus on management-style games. 
A product of this is Warhammer: Age Of Sigmar, an upcoming real-time strategy game that will see players command armies of fantasy soldiers based on the miniatures developed by Games Workshop.
Having been in charge of creativity, Watts maintains a desire to pursue ideas, although as chief executive he now has the company's performance to take into account.
'I would make every game under the sun,' he says.
'But the hardest job I have is saying no to great ideas. We're a business and have to understand whether those games will be successful.
'Just being a great game doesn't mean it's going to sell.'
While Frontier and the industry face difficult times – both with the cost-of-living squeeze on consumer spending and the threat of potential swoops by rivals – Watts prefers to focus on the brighter side of the booming sector.
'In any business there are threats,' he says.
'But as a chief executive your job is to turn that into an opportunity. I'm an eternal optimist.'
Some links in this article may be affiliate links. If you click on them we may earn a small commission. That helps us fund This Is Money, and keep it free to use. We do not write articles to promote products. We do not allow any commercial relationship to affect our editorial independence.