The London stock market pressed higher yesterday despite a sharp sell-off in commodity-focused stocks.
Following a strong start to the year on Tuesday, the FTSE 100 was up another 0.4 per cent or 31.10 points, to 7585.19 while the FTSE 250 climbed 1.3 per cent, or 256.73 points, to 19,391.07.
The rally came despite recession fears and weaker demand weighing on raw material prices including oil.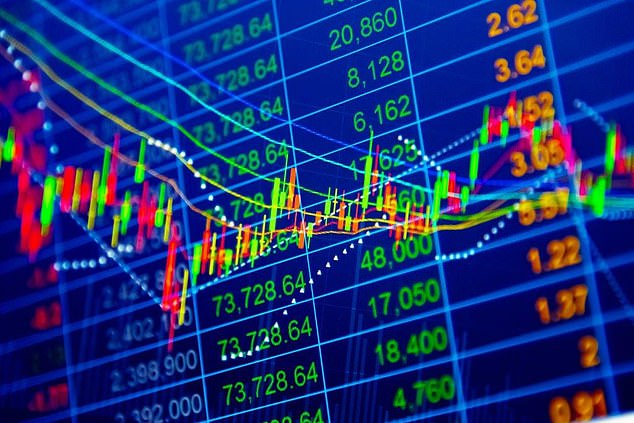 On the rise: Following a strong start to the year on Tuesday, the FTSE 100 was up another 0.4% or 31.10 points, to 7585.19 while the FTSE 250 rose 1.3%, or 256.73 points, to 19,391.07
Brent crude fell by more than 5 per cent to below $80 a barrel.
The slump dragged down the oil majors, with BP off 3.6 per cent, or 17.5p, to 465.85p while Shell dropped 3.5 per cent, or 82p, to 2285p.
AJ Bell investment director Russ Mould said that while oil prices have shed 5 per cent already this year, such losses could ease inflation and encourage central banks to slow the pace of interest rate hikes or pause them altogether.
He said: 'The dominant market narrative remains investors' hope, or even expectation, that a global slowdown, or even recession, will allow central banks to pause on hiking interest rates and then pivot to cutting them.
'Weaker oil and metal prices could help cool inflation and give them scope to loosen policy again, and a slowdown in China, the world's second-biggest economy, could weigh on growth and dampen competition for vital raw materials as well.
'Lower rates could mean lower bond yields and lower returns on cash, and tempt investors to look at other asset classes such as shares in search of higher returns and yields.
'The weaker-than-expected German inflation number fits with this narrative and has helped to lift equity markets across the board in Europe.'
City analysts heaped further misery on energy and oil investors as Jefferies cut its target price for three stocks. 
Stock Watch - Heiq
Fabric tech firm Heiq plunged to a record low after it warned yesterday of a tough year ahead.
The group, which makes waterproof coatings for jackets, said revenues for 2022 were likely to have been around 20 per cent below market expectations, at around £45million. 
That put it on course for an annual loss of up to £2.9million.
The outlook was also bleak with the firm saying trading this year would be 'below market guidance'. 
Shares fell 50.9 per cent, or 28p, to 27p.
The casualties were Harbour Energy, which fell 3.3 per cent, or 9.6p, to 283.4p, while Capricorn Energy sank 2.9 per cent, or 7.2p, to 245p and Tullow Oil slid 2.8 per cent, or 1p, to 35.34p.
Gas prices were also on the slide, falling more than 7 per cent.
A steep fall in forward wholesale electricity and gas over the past four weeks must be a 'relief' to the Government as it would significantly lower the cost of fiscal support in 2023-24 compared to 2022-23, according to Investec analyst Martin Young.
British Gas owner Centrica tumbled 2.6 per cent, or 2.34p, to 89.6p while power firm Drax plunged 5.7 per cent, or 38p, to 633.5p and SSE was down 1.7 per cent, or 28p, to 1635.5p.
There was also little to cheer for mining stocks. Falling metal prices sent Glencore down 6.9 per cent, or 37.8p, to 506.6p while Anglo American slid 2.7 per cent, or 87p, to 3180p and Antofagasta sank 0.5 per cent, or 8p, to 1554p.
Heading in the other direction was Ocado after City broker Evercore raised the online grocer's target price to 700p from 600p. It rose 9 per cent, or 58.6p, to 707.2p.
Similarly, Guinness maker Diageo added 1.3 per cent, or 46p, to 3658.5p after Credit Suisse raised its target price to 4500p from 4400p.
There was also good news for RS Group. The British tech firm dubbed the 'Amazon for engineers' completed its takeover of Risoul, a Mexican distributor, for around £228million. Shares rose 2.2 per cent, or 20p, to 923.5p.
Clinical trial specialist Hvivo landed a £5.2million contract with a client in the Asia-Pacific region for the first time in over a decade.
It will test the biotech company's respiratory syncytial virus vaccine candidate on healthy volunteers as part of its human challenge trial. 
The virus is a leading cause of pneumonia in toddlers and the elderly. Shares rose 10.3 per cent, or 1.2p, to 12.9p.
Some links in this article may be affiliate links. If you click on them we may earn a small commission. That helps us fund This Is Money, and keep it free to use. We do not write articles to promote products. We do not allow any commercial relationship to affect our editorial independence.