Morrisons in festive flop: Setback for supermarket's private equity owners after shoppers flocked to rivals over Christmas
Morrisons was the major loser among British supermarkets over Christmas as shoppers flocked to rivals.
In a bruising setback for its private equity owners, industry figures showed sales at the Bradford-based grocer fell 2.9 per cent to £3.1billion in the 12 weeks to December 25.
Waitrose, part of the John Lewis Partnership, was the only other grocer to suffer a decline, with sales slipping 0.7 per cent.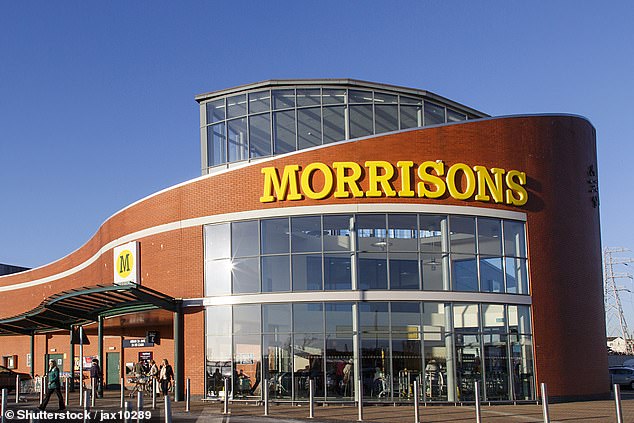 Christmas slump: Industry figures showed sales at Morrisons fell 2.9% to £3.1bn in the 12 weeks to December 25
The scale of the slump raises fresh alarm over the direction of Morrisons since its £7billion takeover by US buyout firm Clayton, Dubilier & Rice (CD&R) in 2021.
And it was in sharp contrast to rivals with soaring prices and robust demand sending total grocery sales to a record £12.8bn in the final four weeks before Christmas, up 9.4 per cent on the same period a year earlier.
The report by Kantar showed Morrisons' traditional rivals Tesco, Sainsbury's and Asda fared far better.
Tesco, Sainsbury's and Asda's sales jumped by more than 6 per cent.
The German discounters Lidl and Aldi were again the fastest-growing supermarkets as they lured hordes of cash-strapped families. 
Aldi, which last year eclipsed Morrisons to become the fourth-largest grocer in the UK, also raked in sales of £3.1billion in the 12 weeks to Christmas Day. That was up 27 per cent on the same period a year earlier.
The Kantar report came a day after Aldi boss Giles Hurley hailed its best ever December.
And Lidl, which is also expected to leapfrog Morrisons in the coming months, saw sales hit £2.5billion, up 23.9 per cent year-on-year.
The German discounters make up a combined 16.3 per cent of the UK's grocery market, behind only Tesco, which has a 27.5 per cent share. Sainsbury's has a 15.5 per cent share while Asda is on 14 per cent.
Morrisons now commands just 9.1 per cent, down from 10 per cent before its £7billion takeover by US private equity outfit CD&R but up from 9 per cent a month ago.
It is struggling under the weight of a £6billion debt pile, built up to finance the takeover.
The cost of servicing this debt is climbing as interest rates rise and, as a result, it has been pushing up prices faster than rivals.
It has seen an exodus of shoppers and faced humiliation when it lost its coveted spot in the big four to Aldi.
In an interview with the Daily Mail last month, former Morrisons director Paul Manduca said founder Sir Ken Morrison would be 'rotating in his grave'.
CD&R bought Morrisons in a deal orchestrated by former Tesco supremo Sir Terry Leahy, who is an adviser for CD&R.
The deal was opposed by MPs and senior City figures.
Industry experts have branded the takeover 'at best a distraction, and at worst a disaster'. Hargreaves Lansdown analyst Susannah Streeter said: 'Morrisons has struggled to regain its lost footing. 
While the discounters have roared ahead, devouring market share as shoppers seek refuge in value amid the cost-of-living storm, Morrisons has struggled to regain its lost footing.
'It seems Morrisons has had little wriggle room to slash prices in the same way as its rivals.'
She said it faces a 'huge fight' to regain its number four spot.
Sainsbury's will increase pay for its 127,000 hourly workers in the third hike in just over a year. It has almost 600 supermarkets and more than 800 convenience stores, and will raise pay to at least £11 an hour from February, a 10 per cent increase year-on-year, costing it around £185million. It comes on top of a £20million investment in October, in its last increase, after a rise from £9.50 to £10 in 2021.
Advertisement