The British Chambers of Commerce's (BCC) quarterly economic survey is the biggest UK private sector report into business sentiment, one that takes soundings from more than 5,600 firms – 92 per cent of which are SMEs – on current trading, investment and sales.
It's also the one survey that is most scrutinised by policy makers, the Treasury and the Bank of England because it gives such a revealing snapshot of what's really going on at the ground level of UK plc.
If that's the case, then the mandarins had better get their tin hats on and their calculators out.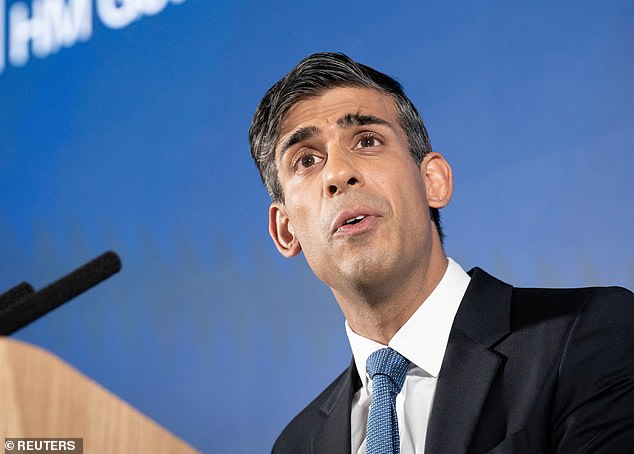 Pledges: Prime Minister Rishi Sunak said he would halve inflation to ease the cost of living, provide better paid jobs and make sure that national debt is falling
They will not have liked what they read from the latest research, which took place last November before and after Jeremy Hunt's Autumn Statement.
It showed there were big falls across all economic indicators for those questioned in the fourth quarter of last year, continuing the decline seen in the third quarter.
What's worse, confidence about profitability is at Covid-crisis levels with only one in three firms expecting profits to rise this year. 
More than a third expect a decline. Only a third of SMEs saw any increase in sales over the last quarter while more than a third expect a decline.
Not surprisingly, the retail and hospitality sectors are weak, with three-quarters of restaurants and pubs operating well below capacity. 
What's even more worrying is that so few firms plan expansion through investment, on either plant or hiring staff.
Only a fifth are considering investing over the next few months while the same number report a decrease.
The rest are just hanging in there.
Higher inflation, rocketing energy costs and labour shortages are mainly to blame for the lack of confidence. Until now.
We now have another bugbear looming – the six percentage point rise in corporation tax which companies will have to pay in April, one which for many may prove the final blow. David Bharier, the BCC's head of research, puts it neatly: 'For many, the cost of doing business is now simply too high.'
He also says that while Hunt's emergency statement settled the markets, his policies did not restore business confidence.
He's right: the reverse is true. Come April, the double-whammy of higher personal taxes and higher corporation tax will be crippling. If business and consumer confidence is low now, what happens then?
Hunt is keen to make the point that there were many goodies in his budget which should help kick-start the supply side to provide more growth.
Other than the Edinburgh reforms for the City, it's difficult to see what they are.
Even Liz Truss's cleverer reforms, such as boosting childcare provision, have been ditched. Instead, Rishi Sunak and Hunt should go further and be more radical, providing tax relief for all working parents.
This would ease living costs for couples and smooth the labour market. What business needs now as a boost to confidence is clarity, particularly on future energy costs after support package relief ends in March.
The Prime Minister did his best yesterday to set out his ambitious vision for future growth, claiming he would halve inflation to ease the cost of living, provide better paid jobs and make sure that national debt is falling. 
He may well be right about inflation – the Bank of England and the Office for Budget Responsibility forecast it will fall to below 4 per cent by the end of 2023 as prices ease around the world.
But Sunak must do more than spin yet more platitudes. He must show, not tell.
And start by dropping some of April's more foolish tax rises or prune public spending. Something has to give.
Morrisons under pressure
Father Christmas missed out on his visit to Morrisons. The supermarket group's sales fell 2.9 per cent in the 12 weeks to December 25. 
As Kantar estimates grocery sales increased by 7.6 per cent over that period – and year-on-year growth in December was higher at 9.4 per cent – this is not promising.
You have to ask whether Morrisons is feeling the strain after the takeover by US private equity house Clayton Dubilier & Rice.
It's been loaded up with around £6billion of debt, a recent credit downgrade from Fitch's, lower profits and market share.
Headhunters are currently looking for a new chief executive to replace David Potts, who leaves next year, while the chief operating officer recently stepped down.
A vacuum at the top, at the same time as one of the fiercest grocery markets for decades, is a recipe for disaster.
Some links in this article may be affiliate links. If you click on them we may earn a small commission. That helps us fund This Is Money, and keep it free to use. We do not write articles to promote products. We do not allow any commercial relationship to affect our editorial independence.